2017-2018 BOARD OF DIRECTORS
Executive Committee
----- Rev. John Keydel, EP ------ St. Michaels, Maryland
President-3rd term through 2018 ~ Director-2nd term through 2019
The Reverend John F. Keydel, Jr. is currently the Interim Rector for Christ Episcopal Church in St. Michaels, Maryland. Over his 18 years of ordained ministry, John's main focus has been formation, whether for a diocese or as an interim. Prior to his work as an interim in specific congregations, he served as a Canon in the Diocese of Michigan for nine years, including six years as the Canon for Ministry Development and Transitional Ministries. Prior to that, he worked in various parish ministry positions. Father Keydel started his career with eleven years in retail banking in Connecticut. His M.Div. degree is from the Berkeley/Yale Divinity School, following upon M.B.A. and M.Ed. degrees. John and his wife Meg have two grown children.
----Cynthia Huheey, CAE ---- McLean, VA
Executive Director
Rev. Malcolm Himschoot, UCC -- Cleveland, Ohio
Vice President - 1st term through 2018 - Director - 1st term through 2019
Rev. Malcolm Himschoot, is the Minister for Ministerial Transition for the United Church of Christ in Cleveland, OH. Part of his responsibilities includes engaging partners in researching, developing and disseminating resources on ministerial transition in the United Church of Christ. Supports interim ministers in the United Church of Christ and the UCC interim minister's network. Develops resources and support for conference staff engaged in search and call. Oversees the UCC Profiles Office including the UCC Ministerial Profile's Portal, Ministry Opportunities Listings, and the development of a new Local Church Profile system and resources and supports ministers transitioning between calling bodies or into retirement.
--Rev. Sue Seiffert, ELCA-- Portland, Oregon
Secretary-3rd term through 2018 ~ Director-1st term through 2018
Pastor Sue Seiffert is a trained intentional interim minister.  She has served churches in transition since 1999  and is currently serving Resurrection Lutheran Church in Portland, Oregon. Prior to that she served on "settled" calls. She has been in Minnesota, South Dakota, and North Dakota. She has always considered Oregon her home state. Pastor Sue enjoys the challenge of getting to know different congregations and walking with them as they explore the opportunities of the interim time.
Rev. Les Robinson, UCC ---- North Myrtle Beach, South Carolina
Treasurer -3rd term through 2018 ~ Director-2nd term through 2020
Rev. Les Robinson serves as Manager of Interim Ministry Resources for the Center for Congregational Health. In that position, he gives oversight to the interim training curriculum and assists faith communities seeking to engage in interim ministry. Les also has expertise in consulting, mentoring, conflict management, group facilitation, and team building. He is a graduate of Southern Illinois University (B.S) and Southwestern Seminary (M.A. and Ph.D.).  Les serves on the IMN Board of Directors and is in a one year term as secretary. He has also served a major role on many IMN Task Forces and Committees.
--Rev. Kevin Buchanan, PCUSA-- Terre Haute, Indiania
Director - 1st term through 2017
Rev. Kevin Buchanan has been ordained since 1980 and began as a consultant for youth ministry for the Presbytery of South Florida and served two congregations as youth minister. From there, he served as a solo pastor and an associate pastor in Missouri, Oregon, and California. When he married Astrid in 2002, he served in transitional ministry at congregations in San Leandro, San Rafael, Windsor, Turlock, and San Anselmo, California. He served in long term transitional ministry (otherwise known as installed) in Marshfield, Wisconsin. Kevin currently is serving as the transitional pastor at Central Presbyterian Church in Terre Haute, Indiana.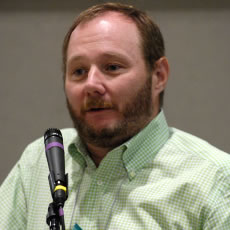 ---Rev. Keith Kron, UUA--- Boston, Massachuttes
Director - 1st term through 2017
The Rev. Keith Kron has been the Director of the Transitions Office since 2010 for the Unitarian Universalist Association. He previously served from 1996-2010 as the UUA's Director of the Office of Bisexual, Gay, Lesbian, and Transgender Concerns. An elementary school teacher before entering ministry, he has taught an online course on children's literature for Starr King School for the Ministry. He also leads workshops on the enneagram and has occasionally been a part-time tennis pro.
---Rev. Ineke Mitchell, UCC --- Canton, Connecticut
Director - 1st term through 2018
Rev. Ineke Mitchell is an ordained UCC pastor who has served for the last 30+ years as settled and intentional interim pastor in both local congregations and judicatory positions.  She is currently the Interim Associate Conference Minister for the Maine Conference UCC.  She has served on the IMN faculty since 1997 and has held the PTS designation since 2002.
Her ministry has spanned 8 conferences and congregations of pastoral – corporate size.  Her passion for ministry is to create healthy thriving faith communities that creatively find new ways to minister in the 21st century.  Her partner in ministry is General…a certified ministry dog who is the best listener in the world and preaches mean sermons.
---Rev. Katrina Palan, DOC--- Lincoln, Nebraska
Director - Unexpired Term through 2018
Katrina Palan has been in ministry since 1995. She served the Church for ten years as a commissioned minister, holding positions in youth ministry, singles ministry, chaplaincy (2 years at Wesley hospital in Wichita), and as an interim pastor while attending Seminary.  Katrina graduated from Friends University in Wichita, KS with a Bachelor of Arts in Religion and Philosophy in 1998. From there she attended Phillips Theological Seminary earning a Masters of Divinity in 2001. Katrina started teaching in community colleges in 2002. She has taught face-to face classes, blended of online and in class, remote (students in class & video students in another location) and for the last six years, online. Katrina teaches Religion, Philosophy and Ethics classes. After Seminary, Katrina accepted a call to a congregation in Ottawa, KS. After serving for four years, she and her husband moved back to the Wichita area where her Interim ministry began. Katrina continued to do Interim pastorates around the Wichita area and teach in two local community colleges. Katrina and her husband, Paul, have four adult children and eight grandchildren. Their kids live in Fayetteville, North Carolina; Tucson, Arizona; Nuevo, California and Lincoln, Nebraska. Katrina and Paul moved to Nebraska to do an Interim in Omaha. They now live in Lincoln where Katrina serves as the Intentional Interim Regional Minister for the Christian Church (DOC) in Nebraska.​
---Rev. Ron Pogue, EP---Arlington, Texas
Director - 1st term through 2018
The Reverend Ronald D. Pogue is Interim Rector at St. John's Episcopal Church in Jackson, Wyoming. He has served as an Interim Rector in Michigan, Kentucky, and Kansas. Before interim service, he was Rector in Galveston, Texas and a Canon at Houston's Christ Church Cathedral.
Ron is a credentialed mediator and Professional Transitional Specialist. His emphasis in ministry has been stewardship, Christian formation, leader development, and evangelism. He is a leader in the Church's advocacy for marginalized people.
Ron stated, "I am called to foster hope, lead change, inspire action, and glorify God, for the building up of the Church, and for the sake of the world. The promises I made at my ordination provide a rule of life: listen to others, study and teach, work collaboratively, become who and what I am, remain in intimate relationship with God."
Ron and his wife, Gay, have been married for forty-six years and are parents of two grown sons.
Rabbi Michael Remson, JReform Kenosha, WIsconsin
Director - 1st term through 2020
Michael M. Remson is a retired rabbi who, during the last decade of his career, specialized in guiding congregations through periods of tension and leadership transition.  He earned his Master's Degree in Hebrew Literature at Hebrew Union College-Jewish Institute of Religion in New York in 1973 and was ordained a rabbi by the faculty of the College-Institute.  He also received honorary doctorates from both HUC-JIR and the Reconstructionist Rabbinical College.  Much of Michael's work is based on family systems theory, learned from the late Rabbi Edwin Friedman and Dr. Peter L. Steinke. Dr. Friedman, a family therapist, understood that congregations are emotional systems. Friedman's first book Generation to Generation (Guilford Press, 1985) applied Dr. Murray Bowen's family systems model to religious congregations and transformed the way Americans think about churches and synagogues.  Michael also studied with Dr. Steinke, the Lutheran pastor who has continued Friedman's work.  Steinke developed the Healthy Congregations Workshops and the Bridgebuilder approach to conflict management.  Michael received training to be a facilitator in both of those programs. After serving small-city and suburban congregations for nearly three decades, Michael completed the then-six-month training program of the Interim Ministry Network, the IMN. He worked with congregations in transition until his retirement in April, 2011.  Michael has received the additional designation of Professional Transition Specialist (PTS,) from the IMN and serves on their faculty.
Rev. Eleanor Scarlett, UCCN -- Brampton, Ontario CANADA
Director - 1st term through 2019
Rev. Eleanor Scarlett was born in St. Thomas Jamaica into a family actively involved in the Methodist Church where her faith was nurtured. Eleanor believes from an early age she was able to recognize inequality and began to cultivate a deep sense for social justice. She states that in the early years she struggled to find a welcoming faith community. She was aware of a call to ministry from a young age but instead chose other career paths. The call never really left and ultimately she said yes to the voice that kept nudging at her. She attended York University Atkinson College and obtained a BA (Hons) in Environmental Sciences and Sociology and later attended Emmanuel College in the M.Div. program and was ordained by Toronto Conference in 1996. Eleanor did her Internship at Cole Harbour United Church and settled in Halifax Presbytery, Maritime Conference. She later answered a call to Toronto West Presbytery and returned to Ontario. She is a founding member of the Journeys of Black Peoples of the United Church of Canada and served as chair of Toronto Conference Racial Justice Committee, Emmanuel Alumni, Conference Interview Boards, Presbytery Pastoral Relations Committees as well as the National level.
---Jenny Stephens, UCCN -- Toronto, Ontario, CANADA
Director - 1st Term through 2019
Jenny Stephens is the Team Leader: Policies and Programs for Ministry Personnel in the General Council Office of The United Church of Canada. Raised in the Methodist Church of Great Britain, Jenny has worked within The United Church of Canada serving in both team and solo ministry in multi-point pastoral charges as well as 16 years as the personnel minister in Hamilton Conference (middle judicatory). She has taken the IMN training and enjoys supporting the practice of interim ministry. Jenny is a trainer with the Emotional Intelligence-Human Relations Skills Center (www.eqhrcenter.org).  She lives in Cambridge, Ontario.
--Mr. Steven Van Voohees, EP -- Richmond, Virginia
Director - 1st term through 2018
Mr. Steven Van Voorhees is a consultant, educator, facilitator, and mediator. He served for over 30 years in the Federal Service and then with public and private sector organizations dealing with strategic leadership and management issues. He consults with churches in transition, including search processes, board and ministry team retreats, strategic planning, and shared ministry reviews. He is a certified Myers-Briggs Type Indicator Counselor. Steven serves on the Board of the Interim Ministries in the Episcopal Church (IMEC), a former trustee of the church of the Holy Comforter Foundation, and is a current member of the Standing Committee of the Diocese of Virginia. His undergraduate and post-graduate work is from Florida State University.
Rev. James West, ELCA --- Windor, Colorado
Director -1st term through 2020
Rev. James West serves Bethel Lutheran Church, ELCA in Windsor, Colorado. In San Diego he served as an intentional interim minister at Atonement Lutheran Church. Before that he served in the U.S. Navy as a chaplain. Tours of duty saw him serving among Sailors and Marines, aboard ships and submarines, in the field, in hospitals, even boot camp. Before that he served congregations in Detroit and Toledo. He received his Master of Divinity from Northwestern Theological Seminary (Now Luther) in St. Paul, MN. He received his Bachelor's Degree from Northwestern University in Evanston, IL. He grew up in Michigan.
---Rev. Barry Williams, PCUSA --- Springfield, Missouri
Director - 1st term through 2019
Barry Williams' roots are in Southwest Louisiana where he grew up learning a bit about Cajun culture and cooking. He attended Centenary College in Shreveport, La., earning a B.S. degree in Business, then seminary in Austin, Texas and went on to serve churches in the suburbs of Houston, Dallas, and Ft. Worth before moving to work with a congregation in Salina, Kansas. In 1996 the Williams family (Brenda, his wife, and two sons, Stephen and Peter) moved to Southwest Missouri. Springfield has functioned as "home base" for Barry as he served as an Interim/Transitional Pastor in the region. Barry started his 13th interim in July 2015 with FPC in Norman, Oklahoma. He's enjoying getting to know the members of FPC, the OU culture and Norman community. His interests include fly fishing, cooking, and staying in contact with family, friends, and colleagues.