CLICK ON EACH DAY TO LEARN MORE ABOUT KEYNOTE SPEAKERS
KEYNOTE PRESENTATION DESCRIPTION: 
Planting Seeds of New Stories:
Developing a Spirituality of Storytelling
Storytelling is an essential tool for uncovering and sharing the history, values and hopes of a community. But storytelling is also a spiritual practice, a way in which we discover who and what we are in a world infused with the sacred. As interim ministry leaders, we hold these sacred stories reverently, helping our communities discern patterns and potential as new paths come into view.  In this plenary, award-winning author Eric A. Clayton will share tools and insights from Ignatian spirituality: a spiritual path that asserts that the Holy is present in all things, including our stories. Participants will have the opportunity to apply Ignatian spiritual principles in their own lives, and draw from the wisdom of others in bringing insights back to their own communities.
WORKSHOP PRESENTATION DESCRIPTION: 
Marketing Our Strengths:
Tools for Sharing Stories and Deepening Spirituality 
Too often in the ministry world, 'marketing' is seen as a dirty word. But really, marketing ourselves—our churches, our congregations, our communities—is no different than discovering and sharing our unique stories. Our stories help us make sense of where we are in the history of our specific church—and serve as tools to invite new members. As interim ministry leaders, we have the opportunity to help gather up past stories and invite our communities to discern potential future paths. Marketing tools can help us assess our strengths and weaknesses, our giftedness and our shadows. In this workshop, author and communications expert Eric A. Clayton will use proven marketing methods, storytelling techniques and principles of Ignatian spirituality to help us devise a way to engage and share the stories of our communities that is both strategic and spirituality fulfilling.
ABOUT THE PRESENTER:
Eric Clayton is the deputy director of communications at the Jesuit Conference of Canada and the United States and the author of "Cannonball Moments: Telling Your Story, Deepening Your Faith" (Loyola Press). He joined the team in 2019 and produces content that invites deeper reflection on Ignatian spirituality and everyday life. He also guest hosts AMDG: A Jesuit Podcast.
He previously worked at Catholic Relief Services, most recently as the Campaign Content Manager, overseeing the development of prayer and advocacy resources aimed at promoting Catholic social teaching to a US-based audience. He has also managed social media channels for Maryknoll Lay Missioners, developed and directed retreats for the Sisters of Bon Secours and was an adjunct professor in the Mass Communication department at Towson University. His writing has appeared in America, National Catholic Reporter, Busted Halo, Amendo, Sojourners, Grotto Network, Give Us This Day and more.
He has a BA in creative writing and international studies from Fairfield University and an MA in international media from American University. He lives in Baltimore, MD with his wife and two daughters and their cat, Sebastian. Follow Eric's writing on Twitter (@eclaytopia) or at his website, ericclaytonwrites.com.
RECENT PUBLICATION: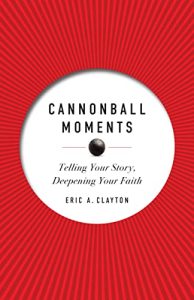 Tell your story, change your life.
Each of us has a story to tell. And each of our stories makes up a vital thread of the tapestry of human life: God's great story of love and creativity. The catalyst for this personal reflection is often a "cannonball moment"—a time of (sometimes explosive) change in our lives brimming with both challenge and opportunity, heartache and joy. In recognizing these cannonball moments, we see more fully the breadth and depth of our personal story and the values that underpin it. This self-work empowers us to listen more attentively to our hearts and to the stories of others—and to inspire all to act for the common good.
By applying Ignatian principles of inner work and self-reflection to storytelling, Eric Clayton offers guidance on how to notice details in your daily life, to develop an attitude of healthy indifference in matters great and small, and respond to feelings of restlessness with clarity and focus. This book offers encouragement and direction, examples to show the way, and practical exercises to help you discover and reflect on your own cannonball moments.
The time to tell your story is now.