For over 40 years, IMN has prepared thousands of dedicated clergy and lay leaders to assist congregations in navigating through the interim time.
We hope you will consider making a financial gift to expand IMN's capacity to serve our members and the faith communities they lead.
JOIN IMN LEADERS IN SUPPORTING
IMN'S MISSION AND VISION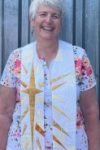 "I am excited both by the current realities and future possibilities of the IMN so I support our network both in the time I offer in leadership and my gifts to the Annual Appeal. Your and my gifts ensure effective programming delivered by skilled faculty members, and strong networking of faith leaders, including judicatories, committed to intentional leadership through the various transitions in society and our faith communities. We have new opportunities to follow God's call to equip all intentional faith leaders and communities of faith for health and mission."
Jenny Stephens, President
IMN Board of Directors
WHAT IMN MEMBERS SAY ABOUT
IMN'S IMPACT
"I have come to my first intentional interim ministry appointment with a great deal of knowledge, training, and a whole lot of people in my corner who are doing the same work."
"I've been strengthened and enriched by the two IMN courses I took. I'm serving my second interim position and the benefits to the congregation have been immense."
"The tools gained from the education by IMN and the way the facilitators modeled and shared, not only theory, but the experiential components of the materials was life-giving. As a leader, my work is more effective with the tools gained from IMN."
THE POWER OF YOUR
2023 TRANSITIONING FORWARD CONTRIBUTION
Your 2023 Transitioning Forward donations will help IMN fund specific mission-focused and values-aligned efforts in the coming year that might otherwise be impossible:
Scholarships – Expressing our commitment to making IMN's training and the Annual Conference experience accessible to those who otherwise would be shut out.
EQHR Center Legacy – Looking to our future by incorporating the essential capacity of emotional intelligence into our training and support of transitional leaders.
DEIJB Commitment – Living our values as we seek to the be the diverse, equitable, inclusive, and just organization in which all people can find belonging.
Mentoring – Enhancing our support of transitional leaders by offering one-on-one guidance for transitional leaders in this moment when managing congregational change is harder than ever.
Choose below your preferred method of giving a gift
to the 2023 Transition Forward Appeal.
Click on the tab to open each method. 
100% OF YOUR GIFT GOES TO IMN!  NO FEES! PAYPAL COVERS ALL CREDIT CARD CHARGES.
GIFT CAN ALSO BE PROCESSED THROUGH THE IMN SHOPPING CART. DONATIONS BY MAIL OR OTHER SOURCES CAN ALSO BE INDICATED.
SPREAD YOUR GIFT OUT OVER SEVERAL MONTHS TO REACH YOUR INTENDED GIFT. YOUR MONTHLY GIFT WILL AUTOMATICALLY BE SUBMITTED ON THE DAY YOU INDICATE.
CANNOT DONATE TODAY? MAKE A PLEDGE TO COMMIT TO TRANSITIONING FORWARD IMN ANNUAL APPEAL BY YEARS ENDS OR FUTURE YEARS.
As a 501(c)(3) not-for-profit organization, the Interim Ministry Network relies on generous contributions from individuals, Judicatories and congregations, to fund new research, scholarship, and initiatives.