All webinars sessions will be presented on the Zoom video conferencing format, for 90 minutes (some webinars may require two 90 minutes sessions) .  Click on the title of each tab for description and leader. Participants will register for each session separately.  Once registration is complete, webinar information will be sent to you by email.  
Webinar information, including but not limited to, date, times, topic or presenter are subject to change.
 Can We Talk Closing, Merging, and Right-Sizing
Rev. Helen Prior
October 12, 2023
1:00 – 2:30 PM EST   
In an age when demographics are challenging congregations to thrive, we will explore how to help navigate conversations that lead to faithful discernment.  This time will be an opportunity to share experiences, questions, and potential challenges.  Our exploration will include grief, culture, legacy, different options regarding merging, and the use of the 5 c's (curiosity, creativity, co-operation, collaboration, and courage) to help shift congregations from palliative numbness into a life-giving and viable ministry.
Helen Prior is an Ordained Interim Minister in the United Church of Canada. Over her 30 years in ministry she has served four pastoral charges as a settled minister, and completed seven intentional interim ministries in Saskatchewan, and southern Ontario.  She has served as faculty since for the Interim Ministry Network since 2017.   Helen has a reputation for using her pastoral skills and sense of humour to invite congregations into dialogue, and helping polarized groups come closer together.  Helen has helped churches discern to amalgamate, disband or close.  Most recently she completed a three way amalgamation where formerly floundering congregations are now thriving.  When away from work Helen enjoys being walked by her pups, being staff to her cats, travel, good music and spending time with friends and family.
CIRCLES OF TRUST:
TRANSITIONING MINISTRY OUTREACH, PERSONAL SPIRITUAL PRACTICE
Rev Dr. Barbara Coeyman
October 17, 2023
1:00 to 2:30 PM EST
"Circles of Trust" is a small group ministry which explores the inner teacher in each of us and builds compassionate relationships with others. Through personal reflection, deep listening, open and honest questions, and clearness committees, we build trust in our authentic selves and in one another. "Circles of Trust" draws from the spiritual writing of Quaker Parker Palmer.
This webinar will be an introduction to some of the practices in the "Circle of Trust" method, to include explanation of the Touchstones, the covenant on which this program is built; habits of deep listening; and discernment of a reading or poetry which invites exploration of the theme of "transitioning." This practice which expands habit of compassionate communication offers helpful resources for the toolbox of interim ministry and also builds interpersonal connections among participants in the Circle. For more about the "Circles of Trust" practice, see Parker Palmer, A Hidden Wholeness: The Journey Toward An Undivided Life.
Rev. Dr. Barbara Coeyman is an Accredited Interim Minister in the Unitarian Universalist Association. She is also a credentialed Facilitator with the Center for Courage and Renewal (CCR), the sponsoring institution of "Circles of Trust." A member of IMN for the past decades, she has led several workshops during annual IMN conferences. She is completing a two-year interim at the UU Church of Muncie Indiana, her eighth transitioning ministry position. For more on CCR, see www.couragerenewal.org.
IS NUMERICAL GROWTH POSSIBLE DURING AN INTERIM?
Rev. Janet Peterman
October 26, 2023
1:00 to 2:30 PM EST
Conventional wisdom has said that numerical growth during the interim time is neither likely nor core to the work.  This webinar invites a collegial conversation to re-examine these assumptions, led by a seasoned re-development pastor who is also an intentional interim minister.  Resisting the temptation to look at best practices from then,  participants will be invited to reconsider where we and the culture stand now, and what all of this may mean for the possibility of growth in the interim time.  Topics for discussion include cultural indicators for this new day, taking stock of how visitors interact with your congregational system, creating a ministry for caring for first time visitors, and the purpose of inviting.
About the Presenter: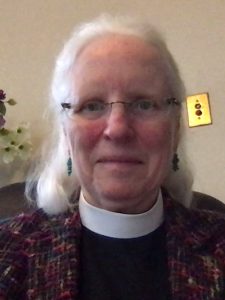 Janet S. Petermanis an inner-city ELCA (Lutheran) pastor living with her family in the Germantown section of Philadelphia, Pennsylvania in the eastern US. She has served the last 16 years of her ministry in seven (7) intentional ministry settings in 3 synods. She has reached the Professional Transition Specialist (PTS) level of accreditation through the Interim Ministry Network (IMN). When not in active ministry, she gardens, bikes, hikes and takes joy in friends, family and photography.
Preaching in the Transitional Time
Rev. Ashley M. Wilcox
November 14, 2023
1-2:30 PM ET
Preaching is an essential tool for interim ministers. Your sermons provide an opportunity to speak to where  the congregation is as a whole, each week. In this 90-minute webinar, Ashley M. Wilcox will share examples of sermons she uses to help congregations through transitions. These will include addressing anxiety in the congregation, holding up a mirror to unhelpful behavior, and laying out a framework for conflict resolution. There will be time for conversation in small groups as well as large group discussion about what will be most helpful for your church during this time of transition.
Ashley M. Wilcox is a Quaker minister and the bestselling author of The Women's Lectionary: Preaching the Women of the Bible throughout the Year (Westminster John Knox Press). She currently serves as the interim pastor of New Garden Friends Meeting.
Ashley is passionate about helping preachers find their voice. She taught preaching to students at Candler School of Theology for five years and now has her own preaching coaching practice, Preaching with Confidence. Ashley also teaches Bible courses for Woodbrooke, a Quaker center in Birmingham, England, and Guilford College.
Ashley is a graduate of Candler School of Theology and Willamette University College of Law. She preaches and speaks across the U.S. and internationally. Her writing has been featured in Geez, Working Preacher, Friends Journal, Fidelia, and Quaker anthologies.
Born and raised in Anchorage, Alaska, she now lives in Greensboro, North Carolina. You can learn more about Ashley on her website, www.ashleymwilcox.com.
PAEI BASIC FOR CONGREGATIONAL LEADERSHIP
Rev. Arlen Vernava
Practitioners, leaders, and faith communities are always intertwined in an organic and dynamic relationship. Picture a great tree with deep and many roots, a robust trunk, powerful limbs and majestic canopy. Picture animals and organisms too, small and large, who create sanctuary and find sanctuary here. The tree and all else are nourished by water, earth, light and air, by organisms and natural processes. All provide home for others and are at home with others. All experience protection, experience growth, and contribute. All manage threat, crisis, and inertia.
This webinar will explore one tool and posture that helps describe and provide for contributing and growing: leadership as "being" and "doing." The tool and posture? P A E I
Ichak Adizes calls P A E I vitamins for leaders and their organizations. In his lifetime of international work with for and not for profit sectors, cultures, and communities Adizes noticed that when every leader, team, group, governing body, family unit, and organization (to name a few)   produces, administrates, entrepreneurs, and integrates, good things happen.
This webinar will give attention to understanding and functioning from a P A E I posture, and harnessing P A E I for assessing, balancing, and advancing the work of one or many: a small working group, a staff, a unit, the faith community as a whole …
In preparation, give thought to what is yours to do (or your team/group), the work of others, and places of collaboration. Have in mind a specific issue or task, something yet in process. I look forward to greeting and working with you on December 5th .
Select webinar(s) and add to cart.